MSH International
MSH International, a world leader in the design and management of international healthcare solutions for globally-mobile employee benefits, provides worldwide quality services, advice and support to help you with your healthcare procedures.
As a leader in Global Employee Benefits with over 2,000 corporate clients, MSH has very strong track record in business development: +10% of Fortune 500 and +50% of CAC 40 and serves all types of clients: multinationals, IOs & NGOs, midcaps & SMEs.
---

A dedicated team for a customized service  
Available 24/7 thanks to our 4 claims departments: Calgary, Paris, Dubai, and Shanghai for global services using a single, integrated and centralized information system.

Multicultural: speaking over 40 languages and covering 60 nationalities.

A thorough understanding of the specific features of local healthcare systems.

Full-time consulting physicians available to provide you with medical expertise.

A global network of more than 1 million providers in the USA and 94,700 providers in 169 countries.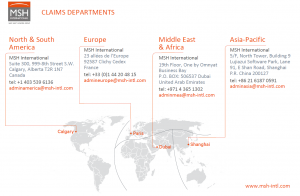 ---

Efficient services
Direct precertification in the event of hospitalization or expensive treatment worldwide.

Claims processed within an average of 5 working days and in more than 150 currencies. This is subject to the submission of all the necessary supporting documents.

Inpatient direct payment procedure available worldwide.

Second medical opinion if you are unsure of the diagnosis you have been given.

Internet and Mobile App secure areas available in 7 languages (English – French – German – Spanish – Portuguese – Italian – Dutch).
---

MSH International and Indigo Expat plans
MSH International administers claims (medical expenses) for Indigo Expat WeCare and OnePack plans. For more info.

⇒ Indigo Expat OneCare (CFE)

⇒ Indigo Expat WeCare (1st €)